ROYAL BELGIAN BASEBALL & SOFTBALL FEDERATION
Belgian Baseball & Softball - Join Us Today!
BREAKING NEWS
Full competition stop for all Belgian Baseball and Softball competitions for at least 4 weeks!
Antwerp, 29 August 2020
The KBBSF has decided, in accordance with the decisions of the Belgian Security Council to combat the Covid-19 virus, to cancel ALL senior competition games for a period of four weeks with immediate effect.
Our clubs have shown great adaptability and resilience in recent months. Many will now be disappointed, but given the current resurgence of the virus, stricter local and provincial measures, our only option is to temporarily stop the competition. For us, the health of all our players, coaches, umpires, scorers, volunteers and supporters is paramount. We also want to provide clear communication for everyone equally.
Our Flemish League (VBSL) will, in consultation with the Walloon League (LFBBS), provide further information about training and measures within the Clubs. The VBSL will make a decision on the youth competitions at the earliest this Thursday. If the advice regarding team sport needs to be adjusted, the KBBSF will also adjust this decision.
The full senior competition stop applies to all KBBSF baseball and softball leagues for at least 4 weeks, so if all goes well we can start again at the end of August 2020. The games for the next 4 weeks will be set to NP (not played) and we will resume the scheduled games when we can play again. The current calendar is therefore still applicable and will continue until mid-October. Hopefully everyone stays healthy and fit and there will still be enough games to play this year!
We wish everyone the best during these difficult times.
René Laforce
President KBBSF-FRBBS
---
More and updated info will be provided in your language via the leagues:
VBSL:
www.vbsl.be/update-corona-richtlijnen-30-7/
www.vbsl.be/corona
LFBBS:
www.lfbbs.be
or alternatively on: www.facebook.com/baseballwal
Welcome to all you want to know about Baseball, Softball, Baseball5, BeeBall and G-Baseball in Belgium

Baseball has been around since the 1920's in Belgium. Today our sports are thriving as never before. 44 clubs make up the Royal Belgium Baseball & Softball Federation (KBBSF - FRBBS) with 4000 members and over 3000 active competitive players.

---
In Flanders, the VBSL has 31 clubs with more than 2200 active competitive members.
In Wallonia, the LFBBS has 13 clubs and 800 active competitive members.
---
It's Game Time.
Join in. Let's Play Ball together!
Announcements
Competition Calendars 2020
are available online.
---
KBBSF-FRBBS
Bulletin is online.
nr 6 / 29-12-19
---
New field address Jemeppe-sur-Sambre White Sharks
Address: avenue des lilas, 5190 Ham-sur-sambre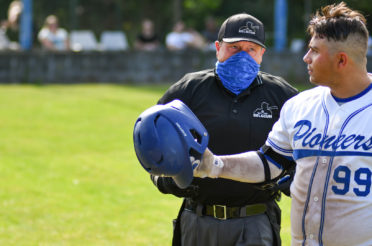 Competitions
All competitions. Calendars. Results. Rankings. Stats and Live Games
Clubs
All our Belgian Clubs in Flanders and Wallonia
Events Calendar
National and International Events Calendar
Red Hawks
Our Belgian National Baseball Team Seniors
Baseball Academies
Our Baseball Academies in Flanders and Wallonia
Softball Academies
Our Softball Academies in Flanders and Wallonia
Belgian Baseball & Softball - review seniors 2019
BELGIUM CUP BASEBALL 2019
Winners Brasschaat Braves
KBBSF-FRBBS announces partnership with YaYa Baseball Bats
We are pleased to announce that a sponsorship agreement has been signed with YaYa Baseball Bats. This European Baseball Bat manufacturer will be supplying the Belgian National Baseball Teams and Baseball Academies with a special Belgium Baseball -edition bat: a modern, high-quality custom European Beech Wood bat in the color black-red. An attractive discount is also provided for the clubs, teams and players. These quality bats are handcrafted at the YaYa factory in Slovakia and can easily be ordered online at their user friendly website.
Go to Discount code